Members
Council 2 is made up of 16,000 members just like you who serve the Washington state community in a wide variety of county and city positions.
Update Your Profile
Council 2 members may update their information, such as address or telephone number changes, online. New members also can provide Council 2 with full details of their information online.
All information is transmitted to Council 2 through a secure connection.
Free Benefits for Members
Council 2 members are eligible to take advantage of two great free benefits: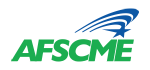 Free $10,000 Life Insurance
As a WSCCCE member, you have the opportunity to update your life insurance benefit to $10,000 (previously $1,000 which ended on 12/1/17) and will have access to vital benefits that'll protect you and your family from out-of-pocket costs.
New Members' Kit
Learn more about what Council 2 and AFSCME offer you
The many valuable benefits and services available to you by being a member of Council 2 and therefore a member of AFSCME (American Federation of State, County and Municipal Employees) are outlined in documents that are accessible from this page. The documents — provided in new member kits — also provide information such as where members' dues go, important websites and email addresses, and how to take part in Council 2 activities.
The documents may be downloaded in PDF format from this page. Click on the document that you wish to access.