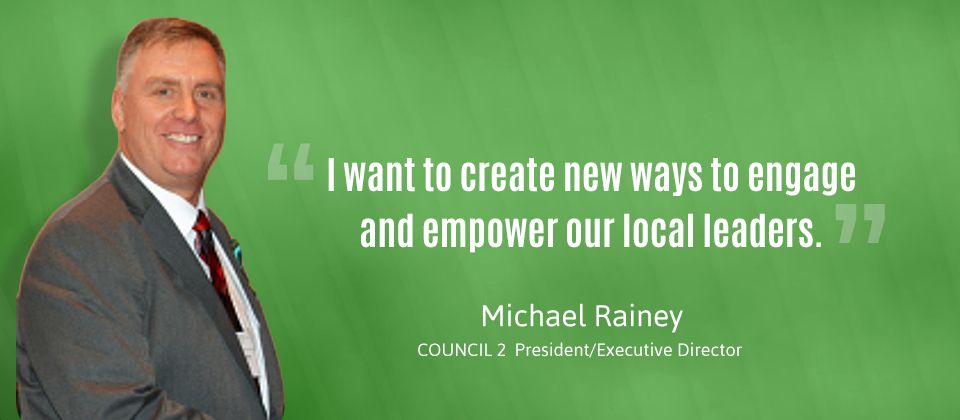 Interview with Michael Rainey, Council 2 President
by Council 2 Staff
on August 31, 2022
At the April 30th Executive Board meeting Michael Rainey was appointed President and Executive Director. In his message to the Board, Rainey shared his personal connection to the union, as well as his thoughts on the direction the Union must take in the coming year, with a focus on member engagement and organizing.

"Like many, I began this journey as an interested member who wanted to stand up for my rights in the workplace and make sure management honored our contract," said Rainey. "I believe in the strength of our union because it provided a secure job that paid a fair wage for me and my family, with health benefits and a protected pension. The life I have built is proof of our union in action. Every day I'm motivated and driven by the chance to make life-changing, positive impacts in our members' lives."

When did you start at Snohomish County, and in what role?
My first job at SnoCo was as a summer help employee in 1995. I was fresh out of the Navy. It was quite a shock going from the military, where you shut up and did what you were told, to the county where the Union rules played a strong role in helping shape job assignments, wages, and benefits. I worked two summers as a seasonal worker and was hired full-time in 1997 as a Road Maintenance Worker.

When did you become President of Local 109?
I was elected as Local President in 2012. Before that, I was a Shop Steward, Sergeant at Arms, and Recording Secretary. I learned early in my career that being engaged and involved in my Local was not only enjoyable but a way to help my co-workers—the same way they helped me when I first came to the County.

Why make a move to Staff Representative?
In 2016, after nearly 20 years at the County, career-wise there was nowhere else to go unless I wanted to go into management. I believe in the mission of the Union and couldn't see myself switching sides.
So when (longtime Staff Representative) Bill Dennis retired, the timing was perfect for me to move into the next phase of my life. Becoming a Staff Rep gave me the chance to dedicate myself to the mission of our Union on a full-time basis. I will be forever grateful to Chris for giving me that opportunity.

Why run for president in these challenging times for Unions and working people?
I ran for President of Council 2 for the same reason I ran for local president and why I became a Staff Representative– because I believe in the power of our Union. The opportunity to make a positive impact on people's lives drives me.
We have so much work to do right now, and it's going to be a team effort.

What are three goals you have for Council 2 in the coming year?
I'd like to improve communication with our members, especially after the disruptions of the past couple of years. We need to be reminded of our solidarity.
We also need to improve communication and collaboration with the Executive Board—the member leaders of our Union are a tremendous asset, and their voices and experience can be better engaged to shape policies and direction for our Union.

I want to create new ways to engage and empower our local leaders, such as providing more access to resources that support locals. Some ideas include improving our website, making contracts and other necessary information readily available to our members, and better sharing information about organizing and building local power for our members.

Expanding our online training is also a priority. We are a unique union in that we have a decentralized organization that is truly centered around local communities—this allows us to bargain and organize to meet the specific needs of our members, but too often without the benefit of ideas, innovations, and best practices elsewhere in the State.

Tell us about your family.
I have four children: two adult daughters in their 30's and two teenagers, 17 and 19. I also have two grandchildren. We have a great, dynamic household– wouldn't have it any other way.

What are your favorite hobbies and things to do when not working?
I'm a lifelong Chicago Cubs fan, and love (nearly) all Chicago sports teams. To stay active, I love to golf and play ice hockey. It's great that we have the Kraken—and so many great developmental teams around the state—but I'll always be a Blackhawks fan.
back