Words of wisdom
by County and City Employee staff
on April 30, 2012
Shortly before he died, Matt Wilson's grandfather,Wayne Phillips, told him why his working life had improved over the years. Wilson has never forgotten the conversation.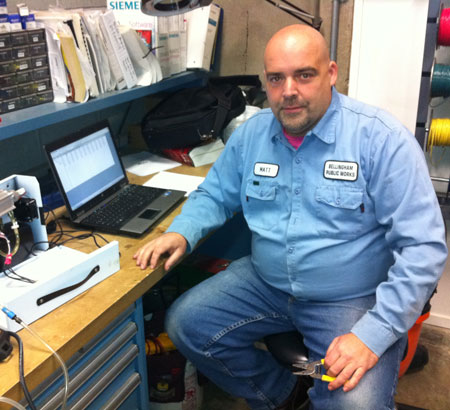 "I am really pleased that our union worked so hard for us and was able to build a decent work week and to see that we were paid good wages," Phillips — who worked as a miner at the northern Idaho Sunshine silver mine for 20 years — told him.
Wilson vowed then to support a union wherever he worked and to do all he could to see that the benefits enjoyed by his grandfather and his father, who also worked at the mine, were never lost.
After high school, Wilson attended Whitworth College in Spokane before returning to Idaho to work as an apprentice electrician in the mining industry for 10 years. In 2005 he moved to Washington State where he found work as a maintenance technician with the City of Bellingham, a position he still occupies.
He was so eager to become involved in Council 2's Local 114, which represents the City employees, that he volunteered to take over as shop steward when the person holding the position retired. But he was told he would have to wait because he was still on probation. Soon, however, Wilson was serving in the position, which he held for four years.
For the last two years he has been president of the 400-member Local.
Staff Representative Vinnie O'Connor says Wilson is a dedicated leader who regularly shows up on his days off to help with union affairs.
"He is a very hard worker and has taken on a number of projects, including recently the design of a logo for t-shirts for the Local.
"He orchestrated the annual members' picnic. He also was the Local organizer assisting the recently elected mayor Kelli Linville in her campaign. He thought she would be fair to workers as well as being a good leader."
O'Connor adds that Wilson is the kind of person who always asks how he can help in any projects that are being undertaken.
Wilson says that his grandfather's words still come back to him when he sees the threats that are emerging to the rights for which his grandfather's generation worked.
"We are taking for granted those things that an earlier generation fought so hard to gain for us: good working conditions, health care and decent wages," Wilson says.
"Not only are we taking them for granted, but those gains are starting to erode. We watch as the health care deduction is reduced and threats to collective bargaining emerge from states such as Wisconsin."
But he sees a bright side to the recent threats to collective bargaining and other union rights. The reason: They serve as a wake-up call to union members.
"In some ways it is the best thing that could have happened to us as we have been called out. A sleeping giant has been called awake."
Wilson recently led bargaining for a new contract, which he says is a good one.
"The challenge is to let members know that they might not have got all they wanted in terms of additions to the cost of living allowances, but in today's climate some things are more important, such as maintaining the benefits and job security we do have."
Adds staff representative O'Connor, "When he is at the bargaining table his focus has been on what's best for the members, what's best for everybody, not just him or his group.
"And he never complains."
back