When disaster comes calling, the cry goes out...'CALL FROSTY'
by County and City Employee Writer
on February 11, 2013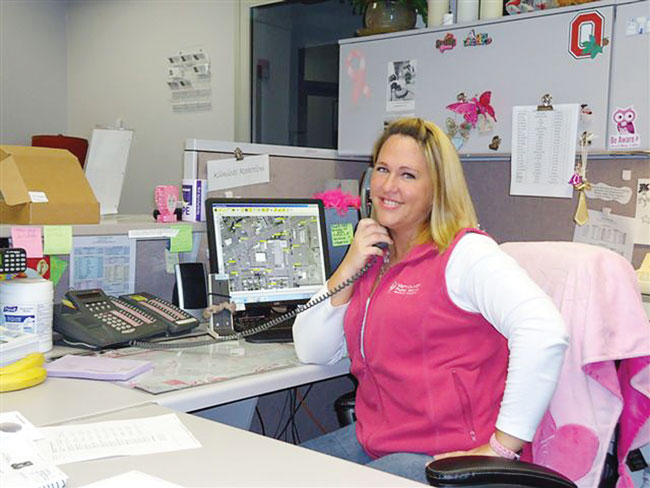 It's just after 8 o'clock on a cold January morning. The telephone on Kimberly Frost's desk rings.
"There's been a water break in downtown Vancouver," the caller says. "It's the main line. Water is gushing out and the road is flooded." After gathering more details and thanking the caller, Frosty (that's Kimberly Frost's nickname), a dispatcher at the City of Vancouver, swings into action.
The first priority is to call the water department; they will need to turn off the water and repair the pipes.
Next, it's the Signs Department that will need to erect notices to close the road to traffic and set up a detour.
The 911 dispatchers will need to be made aware of what is happening.
Emergency vehicles will not be able to get through, so they will need to know how best to avoid the scene as they speed on their way to a call.
The police will need to know, too.
Because the flooded street is on a bus route, C-Tran, the local transport department, will have to be informed so they can divert the buses that will be affected.
The school district will need to know, too, as buses likely are on their way to pick up students and might regularly use the flooded road.
It doesn't stop there.
Calls start to come in from the public. "Why is the main road closed?" "Why can't I get to work on my usual route?" "When is the road going to be opened?"
Although such major emergencies are fortunately not a regular event at the dispatch office, all kinds of situations that require attention arise almost every day.
Some are routine, such as a street light that is out, whereas others require more organization, such as a power outage that shuts down traffic lights and creates the potential for accidents.
In all cases Frosty and her co-worker Sue Lazzarini (whose nickname is Momma Sue) are at the center of the whirlwind of demands that the incidents create.
"This is the type of job that calls on us to be immediately responsive," Frost says. "We never know what is waiting for us on the other end of the line.
"It is important to remain calm.
"We deal with a lot of upset customers, which is the downside of the job. It is our fault if the street light is out. You try to explain the situation, but it requires a lot of patience and tolerance."
There can be no doubt, however, that Frosty — warm-hearted, upbeat and outgoing in spite of her nickname — is up to the task, as is Momma Sue, who has been a dispatcher for about 20 years.
The most memorable event came in 2008 when temperatures plunged, forcing Frost and Lazzarini to work around the clock.
"She worked the days and I worked the nights," Frost says. "Water lines were freezing to private properties and we were seeing lines breaking at the roadside. We had crews going everywhere all the time."
Frost, who has been a dispatcher since 2007, says she and Lazzarini form one of the best working teams that exist. "We back each other up. We are able to vent to each other. We work together so well that people think our job is easy because we make it look as though it is."
Frost became involved in Council 2's Local 307-VC about four years ago and was elected secretary-treasurer three years ago.
Now she is anxious not only to serve the union but also to learn more about it. She recently attended the Legislative Weekend in Olympia as part of that process.
As the workforce becomes older, she believes that young people must step up and become involved in the union. "Our foundation will crumble if my generation does not become involved," she says. "Either we stand for something or we will fall for anything. We cannot quit."
Frost is doing a "fantastic job" in the workplace and in the union, says Ron Fredin, Vice President of Council 2 and Local 307-VC president. "She is very trustworthy and is a great union officer. She realizes that the baton needs to be passed to the next generation. We need these young people in the union.
"She and Sue balance one another," adds Fredin, who is the Street Department Supervisor and relies on Frost and Lazzarini for efficient service. "If we didn't have them, I don't know what we would do."
back