Two executive board members retire
by County and City Employee staff
on July 11, 2012
Two executive board members recently retired — Michael West and John Ohlson. Here are brief biographies of each.

Michael West:
Local 2084-SC President and Council 2 Executive Board member Michael West left the union when he retired as a King County probation counselor July 5. He has been a union member for 25 years, the last 14 of which have been as a member of the Local Executive Board.
Over this time, West says, he has learned how important union membership is, "especially in these times when a lot of workers are viewed as being a problem rather than a model for decent wages and working conditions," he adds.
---
John Ohlson: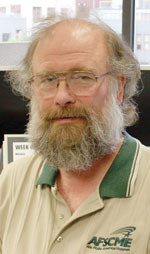 As City of Tacoma Local 120 President John Ohlson retires, he looks back on years of union service in which he has worked hard to improve workers' welfare.
Ohlson, who served as the 664-worker Local 120 president for 10 years, stepped down from his position with the City as a Principal Technical it Analyst on May 31.
He joined AFSCME in 1996 when he began working on software implementation for the City. He served as chairman of the Council 2 Scholarship Committee for 10 years.
back