'We don't work for ME, we work for WE'
by County & City Employee staff
on August 8, 2013
Until this year, Carol Travis had attended every Council 2 biennial convention since 1985. That's 14 conventions covering 28 years — without interruption.
But she broke this impressive record when she was unable to attend the convention held in Spokane in June. That would be the convention at which she was presented with the prestigious Mary Hersey Award.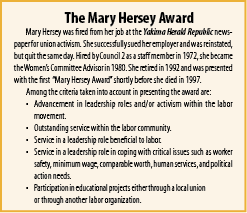 True, she had a good reason for not attending this year's convention. After all, she had retired from her position in the business office at Prosser Memorial Hospital and therefore from the executive board of Council 2, in October. And she needed to attend her son's wedding in Virginia taking place at the same time as the convention.
So it was that, when the award was announced at the Women's Action Committee Breakfast during the convention, her good friend and fellow union leader Sherry Bingman, Secretary/Treasurer of Local 874-HC (Benton County), quoted from a note that Travis had given her to be read at the ceremony. It said, simply: "We don't work for me, but work for we when dealing with management."
That note — which Bingman also read at the general session of the convention — pretty well sums up Travis's approach to the union to which she has devoted so many hours and so much time away from family over the years (she says her husband and children were really understanding) .
"I wanted to make sure everybody was able to be treated fairly," she says. "I was never out for myself. It was for the good of the people and not just for me."
Travis demonstrated this approach over the three decades during which she served several terms as vice-president and president of Local 874-H, having also been elected to the local's executive board and on the state executive board.
Travis attributes her approach to the "middle-child syndrome." "Because I am a middle child, I grew up to be a peacemaker," she adds.
As an example of her approach, Travis says when she looked at pay scales and realized that those who had worked longer earned more, she said "Yay." She was pleased for them. "I was never out for myself."
Her drive to be fair was tested when the Great Recession forced management to seek concessions from the union.
"We would vote to defer pay raises for ourselves in order to prevent some of our members being laid off," she explains.
"That seems fair; I would rather see other people being able to keep their job or even to keep the hospital open than insist that I should get my full pay.
"I am a kind-hearted person.
"It was more about my community and everybody else than me."
Says Council 2 Staff Representative Kevin Dougherty, who represents the area in which Prosser falls, "Carol has always impressed me with her involvement in union activities and her leadership.
"As a local president, she was fearless with management.
"She understood her role and always went to bat for the people she worked with."
back