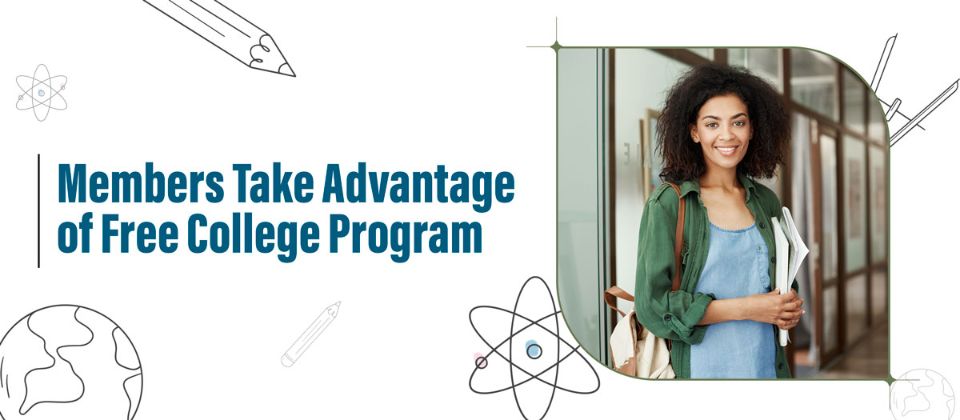 Members Take Advantage of Free College Program and Recommend to Others
by Council 2 Staff
on January 15, 2021
Council 2 members are taking advantage of AFSCME's free college program, and encouraging others to enroll as well.
Carrie Caffrey, City of Bothell Public Works Department staff and President of Local 3845, recommends the program to all her fellow members after enrolling in the program herself. Caffrey, who didn't have the opportunity to attend college growing up, recently graduated with a degree in Business Management.
"You've got to start somewhere," said Caffrey. "You're never too old and you're never too late." She stresses that members shouldn't be intimidated, members can start slow, and the classes are not difficult to begin. Caffrey says the program is a great opportunity for others who didn't or couldn't pursue higher education in their youth, but still want to advance their career.
Members can earn a degree in Business Management, Criminal Justice, Education, and other fields, all in their spare time and completely for free. Tom Akins, a public facilities employee with the City of Seatac and a member of Local 3830, said with the exception of around $25 to send past transcripts, "I haven't paid a single penny yet", as he pursues a bachelor's degree after completing his associate's degree in Business Administration.
"It's been absolutely free," said Caffrey. "That's what I've been telling people. If the textbooks are not embedded within the online classwork, they will actually send you a textbook through the mail."
Akin hopes to use his experience and education to manage operations for a department or city, something that might not have been possible without access to the free college program. He said Council 2's promotion of the program was critical, "even the literature that comes in our new hire pamphlet."
Akin and Caffrey both suggest members speak with their coworkers and union reps. "Having somebody who works next door to them say 'Hey I'm doing it and this is how it works,' might encourage people who haven't been in school in a very long time to say, 'I'm gonna do that,'" said Akin.
The program can also be used by family members and dependents – Caffrey said her daughter has completed prerequisites for a respiratory therapy degree using the program, after promising the two would start college together.
Classes are online – making things convenient around work schedules and especially during the pandemic, and members can take as few or many classes as they have time for, from just one per academic period to a full course load.
To sign up and learn more about the program visit freecollege.afscme.org or talk to your local rep.
back