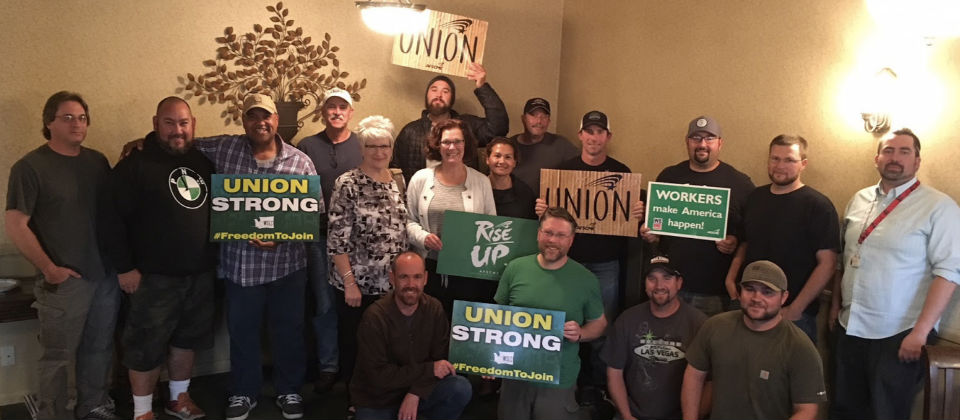 Union Members Hang Strong
by County & City Employee
on December 14, 2018
The Washington State Council of County and City Employees and workers everywhere are standing strong with their union after the Supreme Court's decision in Janus v. AFSCME last June. Locals across the state have held membership meetings addressing what the decision means for workers and their union, and have found workers overwhelmingly support their #FreedomToJoin.

Different Locals have taken different approaches to talking about what the effects of the decision are. Local 1619 City of Port Angeles discussed the Janus impacts at their general meeting, while workers in Spokane have created a comprehensive card drive to keep workers engaged and interested.

Local 1619 City of Port Angeles remains 100% Union members.

When asked why they've chosen to stay, many county and city employees enthusiastically point to the benefits and community delivered by their union.

In addition to collective bargaining, which ensures higher wages and improved benefits, Council 2 also provides an attentive professional staff that supports and informs workers with questions or concerns, scholarship opportunities, and legislative organizing for new labor laws and safety protections.

Though special interests have tried to limit workers' ability to earn a fair wage, Washington's public employees have seen through their misleading claims and ignored potential short- term gains for long-term success, safety, and security.

While the Janus decision's complete fallout remains to be seen, it's up to workers, organizers, staff, Local Unions, and Council 2 to stand together and remain Union Strong. So far, all signs point to a strong Washington State Council of City and County Employees for years to come.
back